Bring Your Backyard to Life with an Outdoor Entertainment System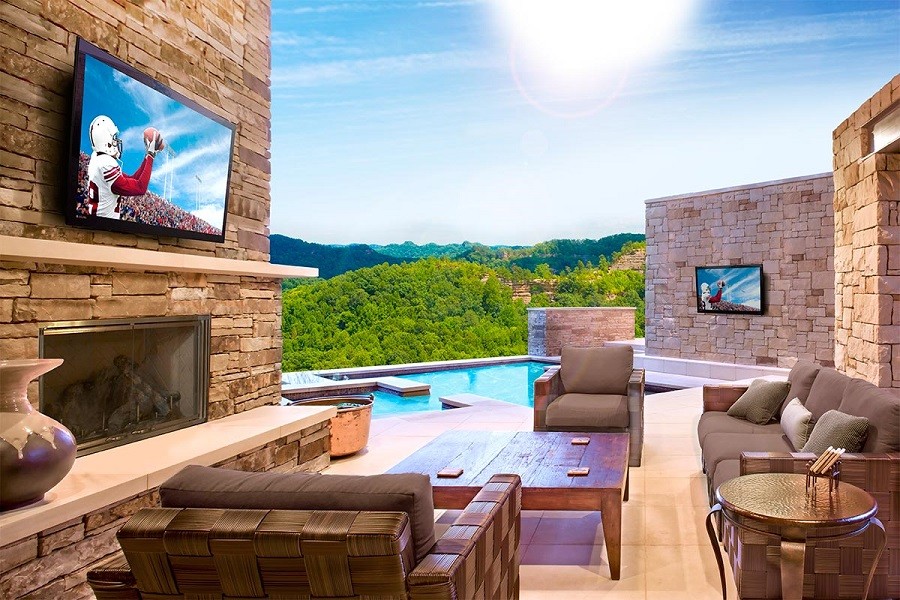 Liven Up Your Backyard with 4K Video, Superior Outdoor Audio, and Evocative Lighting
The warmer weather is coming back to Saskatoon and with it the ability to enjoy the outdoors. One of the greatest pleasures of homeownership is the ability to entertain family and friends in your backyard. When you expand the living space of your home to the outdoors, it evokes a sense of freedom, breaking the confines imposed on us by winter. Adding an outdoor audio system, outdoor TVs, and lighting control brings the family and friends together during the ever so short warm summer nights.
There is a special and enviable joy in having the grass between your toes and the stars above your head. While you are enjoying the days filled with music and joyous children, there is no reason to leave the luxury and convenience of your smart home behind. The stunning 4K video and high-definition audio you enjoy inside can be had outdoors. Whether you are grilling your best for the gang or relaxing the stress away in the jacuzzi, make the most of these moments.
Are you ready to learn how to make the backyard the favorite room of your Saskatoon, SK home? Read below to learn more.
See Also: 3 Reasons Your Need a Climate Control System for Your Home
Your Backyard as a Media Room
Bringing video and audio that's worthy of your home theater outdoors requires more than moving a standard television and speakers into the yard. Placing any piece of equipment in your backyard comes with the challenges of withstanding the elements. The monitors must cope with rain and humidity, resist intrusion from pests, and deliver clear, high-quality images even in direct sunlight.
The Séura company has a long history of providing superb outdoor monitors, working from the concept that the best products result from when art and science work together. The micro-edge LED technology resists fading and damage from the sun while producing video that is up to 140% brighter than standard televisions. Their anti-glare screens furnish extraordinary off-axis viewing and incredible 4K UHD resolution and can operate in temperatures ranging from -31 to 40 degrees Celsius.
SunBriteTV, founded in 2004, uses cutting-edge technology to produce ultra-high-definition monitors for outdoor environments that last the test of time. With models that range in sizes from 32" to 75", there is a display to fit anywhere you need. The televisions are available in versions that work best in full shade, full sun, or partial sun. Rather than produced as a one-size-fits-all product, each is specially designed to maximize performance in specific situations.
Adding Audio Ambiance
Music motivates and inspires us; it defines our moments and lifts spirits with its energy. Your whole-home audio system takes advantage of the enclosed space to fill the rooms while blending into the architecture. Recreating the same quality audio outdoors requires a speaker system that produces crisp audio without overwhelming volume.
The Sonance landscape audio series builds on their legendary indoor systems with a unique understanding of how sound disperses in open areas and conditions. By combining direct coverage and direct burial subwoofers, the unparalleled audio fills your yard without disturbing the neighbors or the aesthetics of your landscaping.
Illumination That Stimulates
When the sun sets and the evening starts, lighting does more than simply guide our way in the dark. Outdoor lighting is a theatrical element for your yard; like music, its implementation generates an instinctive response. The lights, fixtures, and settings bring ambiance, set the mood, and create a sense of wonder.
Home lighting products from Holm help you to craft a story each night. Elegantly define boundaries by silhouetting topiary and highlight architectural features to bring texture and depth. Use a mixture of red and green colors to liven up the party. When it is time to wind the evening down or just relax after a long day, add some blues and violets to instill a sense of tranquility.
Complete Outdoor Living
Outdoor entertaining is more important than ever. There is no need to sacrifice the quality of your viewing or listening. An expertly designed outdoor TV and sound system will make your backyard the favorite space. Are you ready to bring more life to your outdoor entertaining?
Connect with us for a free consultation by calling (306) 974-0888 or filling out our contact form. We look forward to working with you!